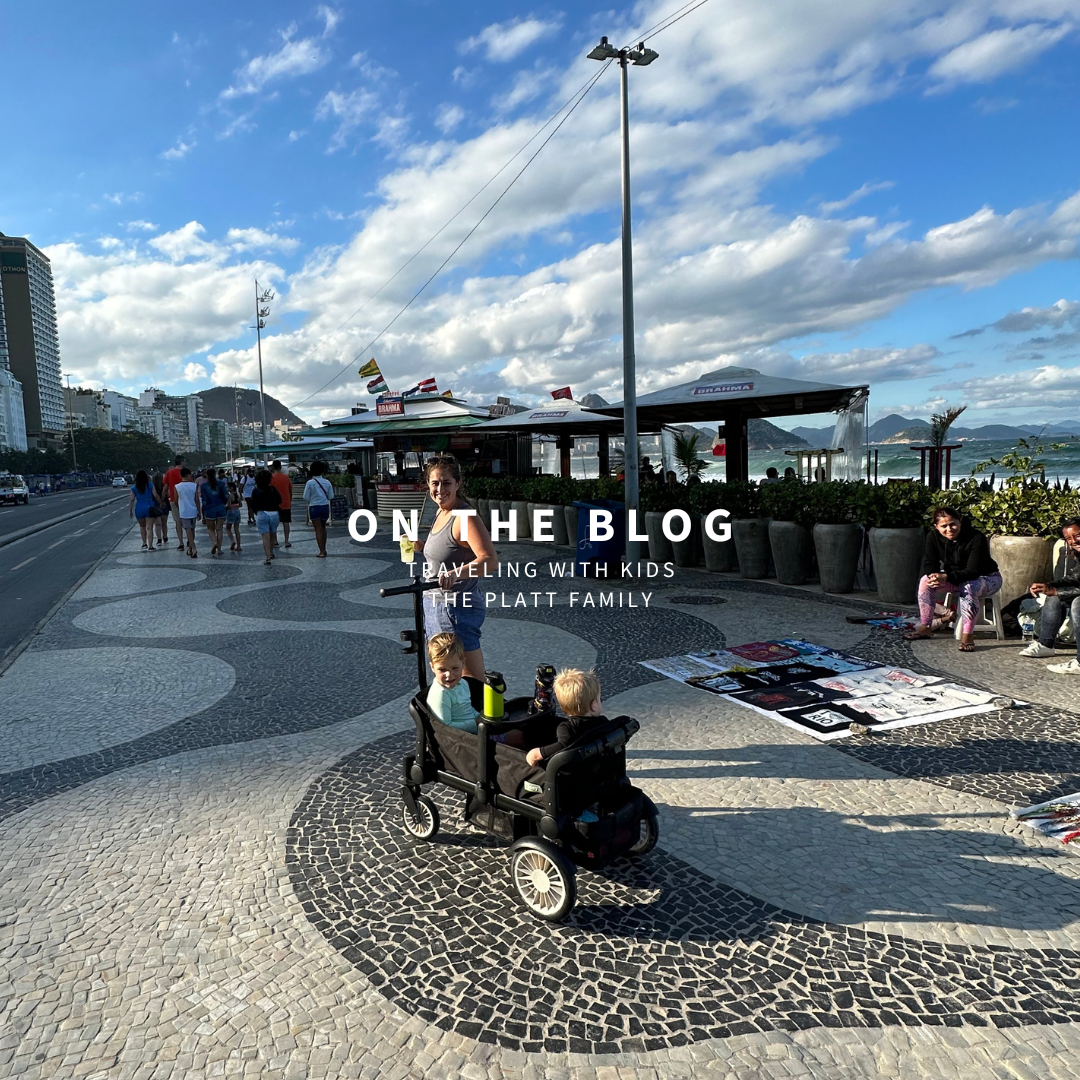 We caught up with @plattfamilypassport after their summer in South America. They brought their Joey Wagon to 5 different airports, one of the seven natural wonders of the world, world-famous beaches, a surfing world championship, and countless parks, restaurants, and shops.
KEEP YOUR ROUTINES
"It's no secret that kids, especially little ones, thrive off of a consistent and predictable routine.  We've found that we're most successful when we can mirror that when traveling.  For us, this means sticking to a nap schedule, bringing along our lovies and portable sound machines, maintaining our bedtime routine, and bringing special "home" treats for emergencies (I'm talking to you, Reese's)."
DON'T OVERSCHEDULE
It's hard to not pack your days when traveling because there's always so much to see and do and never enough time.  We love to create a shared Google Maps list and pin what we want to do or see before the trip.  We try for one "excursion" a day to take place either before or after nap time.  Then, we make sure we have kid-centered activities to fill out the calendar.
CHOOSE YOUR ACCOMMODATIONS CAREFULLY
We almost always opt for a vacation rental, because more space is never a bad thing.  Having a kitchen, washer/dryer, and separate bedroom(s) are game changers.  We can still eat at "home" for meals, pack lighter because we can do laundry, and not have to go to sleep the same time as the kids.  Location matters, too.  You have limited time, so it's important to be close enough to your most important points of interest.
ONE RULE FOR AIRPLANES: THERE ARE NO RULES!
For us, this means unlimited screen time and snacks.  Our kids only have access to tablets on airplanes, and they help to download preferred movies, shows and games before the trip.  They also help shop for airplane snacks, and we don't impose normal snack guidelines.  Doritos for breakfast?  Yes, please!
GIVE YOURSELF GRACE
You can't control everything: kids fuss, plans change, flights get delayed, the weather turns. This is your vacation too, so try to roll with the changes and make the best of it!  
We were able to cruise through the airport hands-free because The Wagon could haul so much (including a car seat!), and then gate check it so we were almost never without it.
It was just as easy to navigate through a city grocery store as it was on the beach.  The slim design paired with all-terrain wheels allowed us to bring the Joey Wagon along on all of our adventures.  That's definitely my favorite thing about The Wagon - I didn't feel limited to certain activities based on our gear.
It's also noteworthy how the wagon folds - it's so compact that we had no trouble fitting it into our rental car with luggage for 4 people.