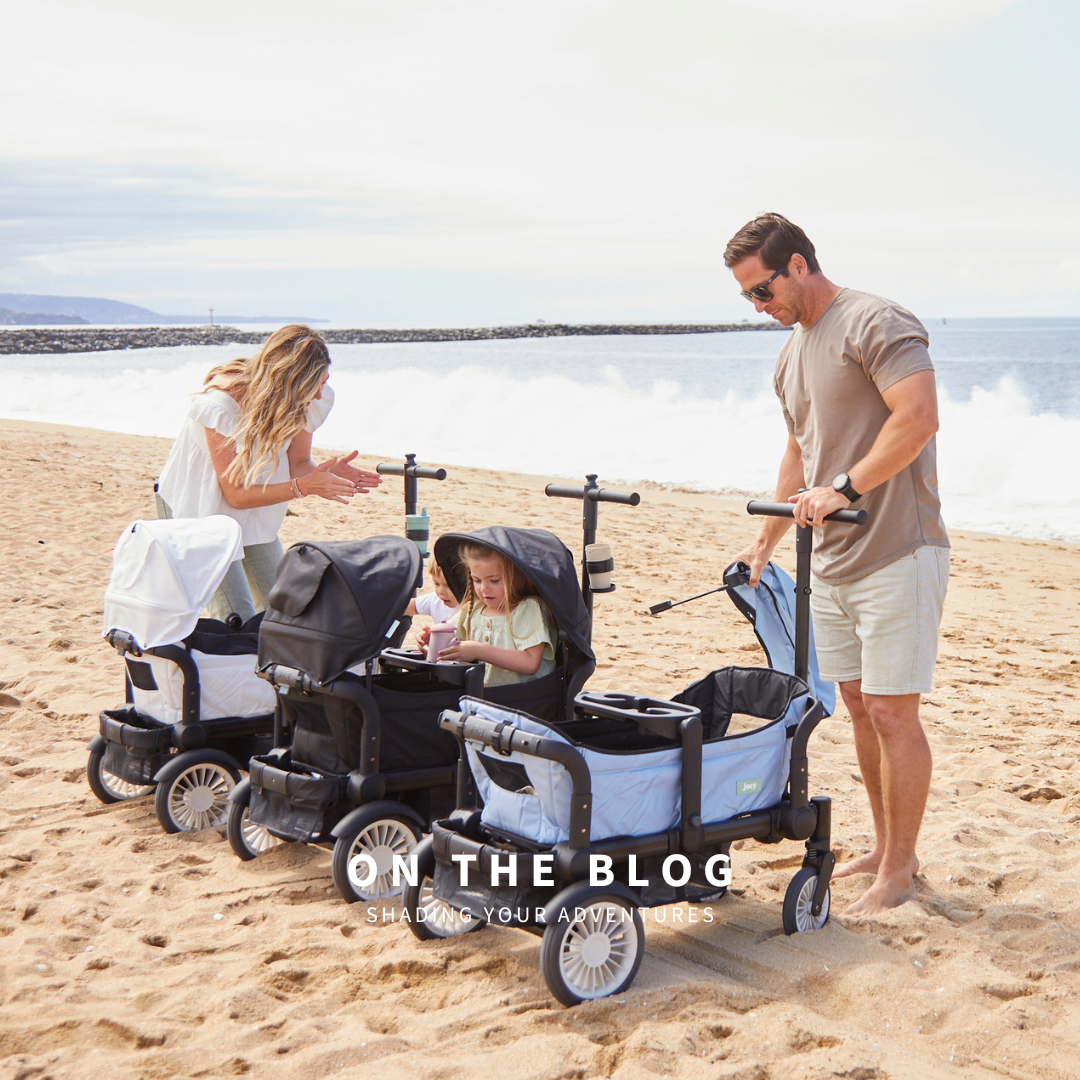 When it comes to outdoor adventures with your little ones, your comfort and safety are important to us. That's why the Joey Wagon's UPF 50+ Canopy is more than just a stylish accessory; it's a game-changer for families on the go.
The Design: Sun Protection with Style
The Joey Wagon's UPF canopy is a masterpiece of design, seamlessly combining functionality with aesthetics. Crafted from premium materials, it not only offers reliable sun protection but also adds a touch of elegance to your stroller wagon.
Key Design Features:
Full Coverage: The canopy is designed to provide complete coverage for your little passengers, shielding them from 98% of harmful UV rays. With its extended reach and wide span, it offers comprehensive protection, even during those long sunny days.

Sturdy Construction: The frame of the canopy is built to last, ensuring it can withstand various weather conditions. It's sturdy enough to handle wind gusts while remaining flexible for easy adjustment.

Adjustability: The Joey Wagon's UPF canopy is not one-size-fits-all. It's designed with adjustable settings, allowing you to customize the shade to suit your child's needs. Whether they prefer a full cover or a bit of sunlight, this canopy adapts effortlessly.

Stylish Colors: The canopy comes in a range of colors to match The Joey Wagon. It's a small detail that adds a touch of personalization to your outdoor adventures.
The Benefits: Sun Protection Plus More
1. Maximum Sun Protection: The Canopy acts as a sunshield, safeguarding your little ones from harmful UV rays. This is especially crucial during sunny days, as it reduces the risk of sunburn and keeps your children comfortable.
2. Comfortable Outings: With The Canopy, your children can enjoy outings for longer periods without feeling fatigued or overheated. It creates a shaded, cool oasis inside the wagon, making your adventures more enjoyable.
3. Versatility: Whether you're at the beach, park, or on a nature hike, The Canopy adapts to different environments. It's the perfect companion for any outdoor activity, offering peace of mind for parents.
4. Easy Maintenance: Cleaning and maintaining The Canopy is a breeze. It is designed to be detachable and can be easily hand washed with warm water and a rag, ensuring that it stays clean and fresh for every adventure.
The Canopy is the ultimate accessory for families who prioritize safety, style, and comfort during their adventures. Its thoughtfully designed features provide full sun protection, adaptability, and a touch of personalization to your stroller wagon. Make every outing a memorable one with the Joey Wagon's UPF 50+ canopy, and let the adventures begin under the shade of elegance and protection.