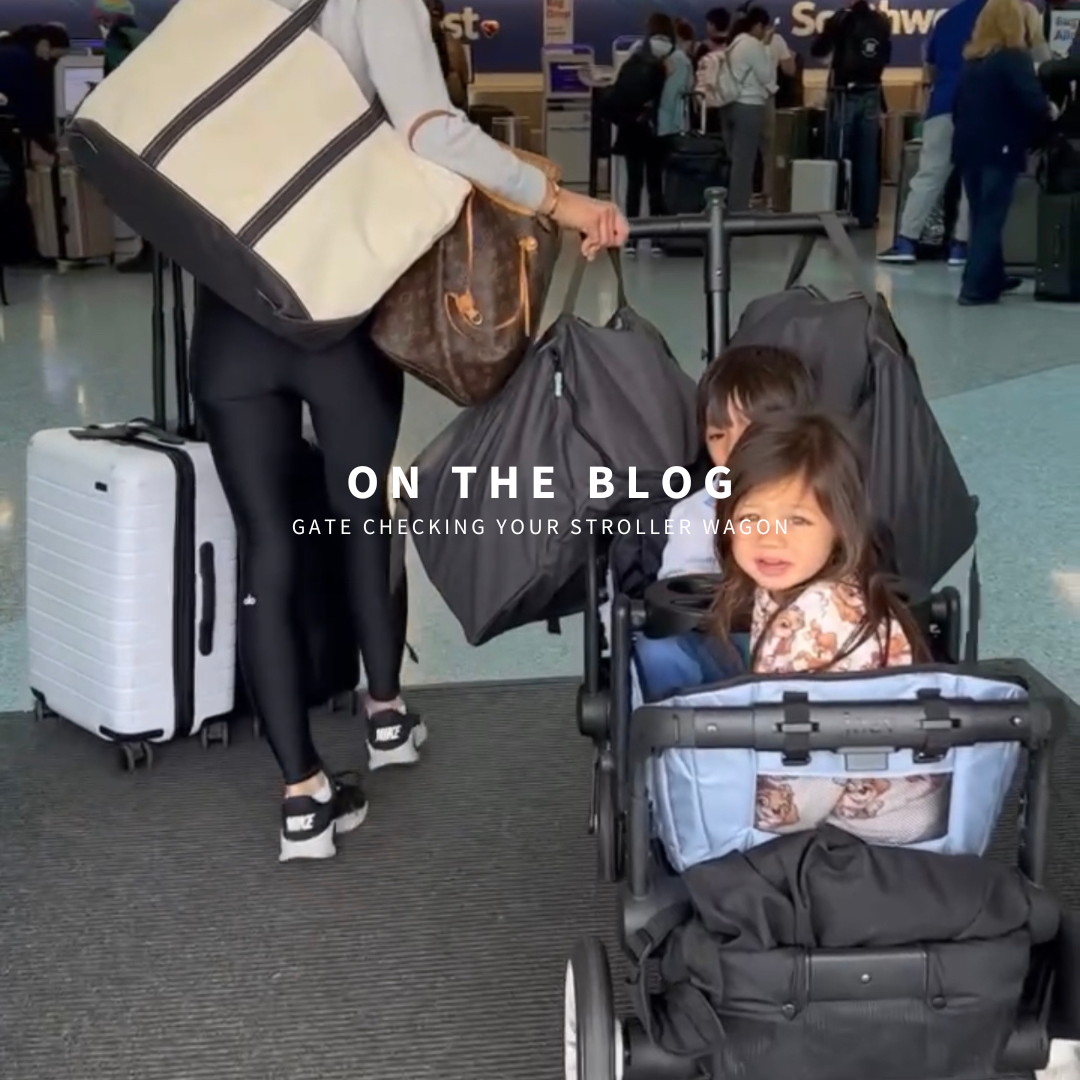 Flying with kids can be an adventure in itself, but when you're traveling with a stroller wagon, your travels can feel so much easier. So, what's the deal with gate checking a wagon? We've got you covered! Gate checking a stroller wagon is a straightforward process similar to gate checking a stroller or a car seat. Here's your step-by-step guide to making it a breeze straight from experience of our founder, Tiffany!
How to Gate Check Your Stroller Wagon
Step 1: Check-In
As you go through the check-in process, let the airline counter representative know that you'd like to gate check your stroller wagon. They'll either provide you with a tag to affix to your wagon or take care of it themselves. If you have a travel bag, simply attach the tag to the bag. If you're traveling light with just carry-on suitcases and no checked luggage, don't worry. You can get your stroller wagon tag at the gate counter after passing through security.
Step 2: Know the Airline Policies
Most airlines are accommodating when it comes to gate checking stroller wagons. However, a notable exception is American Airlines. If you're flying with them, you may need to check your wagon at the ticket counter in a more traditional manner.
Here's a quick summary of gate checking policies for some popular airlines:
American Airlines:
Each ticketed customer can check one stroller and one car seat for free.
If you have a stroller, wagon, and a car seat, only one can be gate checked.
Strollers or wagons weighing over 20 lbs (9 kgs) must be checked at the ticket counter.
Delta:
Strollers and seat restraints for children don't count as part of your standard baggage.
You can check them for free at curbside, the ticket counter, or at the gate.
Jet Blue:
JetBlue gate-checks strollers, wagons, car seats, and more.
These items don't count as part of your checked baggage allowance.
Southwest Airlines:
Customers traveling with children can check one stroller and one Child Restraint System (CRS) or car seat per child for free.
This is in addition to the regular free baggage allowance.
Spirit Airlines:
Spirit Airlines allows one stroller and one car seat to be checked per child for free at the ticket counter or gate.
United Airlines:
Standard strollers, folding wagons, and car seats can be used to reach your gate and then checked for free.
They'll be returned to you upon arrival.
Preparation Before Boarding
Before you board the plane, consider detaching any items from the stroller wagon that might not stay in place during transport, such as cup holders, canopies, and stroller organizers. For gate checking without a travel bag, it's a good idea to remove and store the fenders separately.
Boarding
Your airline may still offer pre-boarding for families with young children. When it's your turn to board, simply push or carry your stroller wagon towards the plane's entrance. Fold it up and leave it at the end of the jetway with the tags visible for the baggage handlers. Depending on your destination, you'll typically find it there when you arrive.
That's it! Gate checking your stroller wagon is a hassle-free process, leaving you more time to enjoy your journey with your little ones. Safe travels! ✈️